I am interested in wholes & parts, theme & variation, simplicity & complexity, isomorphism, levels, epiphenomena, cause & effect, stability, self-replication, self-reference, paradox, connections, synchronicity and God.  I have put together this brief(ish) outline to try and show where these interests came from, and how they inform what I do.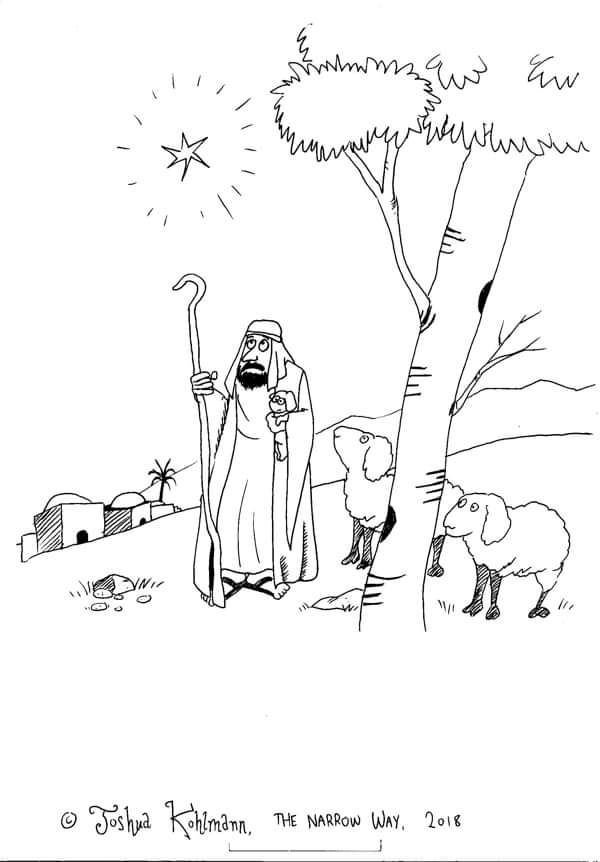 Art and creativity were on both sides of my family.  My father was a draughtsman and a heating engineer. He also liked to produce black & white line drawings of his home town Bolton, of which he was exceedingly fond.  My mother was (and is) highly creative in art & textiles, having created many of the decorations and tapestries which still adorn her home, and designed & created costumes for local theatrical productions.  As a child taken along to many of these productions (and even better, their rehearsals), I absorbed a love not only for the visual arts but also for the theatre.  Later in sixth form college, I went on to study languages and thus, through studying foreign literature, went on to develop this interest.  I became fascinated by the Aristotelian unities through studying Classics, and in particular grew to love the plays of Friedrich Durrenmatt, whose grandiose style, cataclysmic storylines, universal themes, huge contrasts, eccentric characters, grotesque stage effects, sensations and often macabre plots, thrilling storytelling and constant crossing of the dividing line between comedy and tragedy have inspired my own art, music and storytelling ever since.  Significantly, Dürrenmatt was also an artist.
Music was a major feature of the household in which I grew up.  Before I had reached the age of 5 I had been exposed to the symphonies of Beethoven – music that stirs the adult heart almost to breaking point and is practically overwhelming to a child's – among other (mostly) German (mostly) Romantics such as Bach, Mozart, Brahms, Schubert and Bruckner, all richly fertile soil for the young imagination.  Language, too, was rather heightened in our home: as much a friend as a means of communication. Both my parents shared a love of words, which I remember them exploring, savouring, manipulating, playing and conjuring with. It was no surprise that cryptic crosswords came to obsess me later in life, nor was my irritating propensity for punning, or fascination with song lyrics (perfectly rhymed ones – sloppy rhymes in nursery songs annoyed me before I was out of swaddling clouts).
Music and words inevitably fused to form song. Through my parents and their friends I discovered Jake Thackray very early (probably too early, given how ribald some of the songs are; but to this day I admire the poignant, bawdy and playful North Country poetry of his words & music), along with Flanders and Swann (idols since childhood; they achieved the near-impossible in songwriting, which is to be both witty and funny).  My aunt was also a connoisseur of silly songs, into which she would burst, with great gusto and minimal prompting from me, when I was around the absorbent age of ten.  I was thus exposed to such classics as Sweet Violets, The Thing and   Cigareets and Whuskey.
Combined with the theatre on my mother's side, I became interested in musical theatre – opera, operetta and musicals.  The latter started with Rodgers & Hammerstein (primary school), fleshed out with Andrew Lloyd-Webber in sixth form, and exploded properly at university and beyond, where I absorbed such shows as Chess, Les Misérables, Miss Saigon, Little Shop of Horrors and Sweeney Todd. It was around this time that I started writing my own lyrics and music – see here.
But to return to art.  Although I never studied it formally, my doodles and sketches adorned the covers of school textbooks, notelets, exercise book margins, pencil cases and just about any other blank surface I could lay my hands on since I can remember.  Weaned on a cartoon diet of Walt Disney, Charles M Schulz, Looney Tunes and The Muppet Show, these styles inevitably stuck and have never really left; they were simply tempered by the later influences of M C Escher, Alan Lee and Terry Gilliam (my schoolboy fixation with Monty Python has never really subsided either).
How does the art connect with the music?  Since my school days I have been swept up with the concept of isomorphism, and the idea of expressing similar ideas through different media.  My since-twenties idol Stephen Sondheim, on studying the paintings of Georges Seurat, commented "My God, this is all about music."  On reading his masterly collection of his theatre lyrics Finishing the Hat/Look, I Made a Hat, I learned about Sondheim's three artistic dictums ("Content dictates form", "Less is more" and "God is in the details") and exclaimed "My God, this is all about art".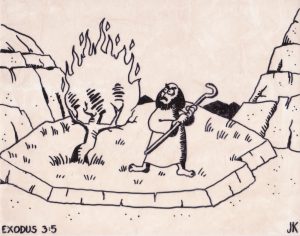 And speaking of God…My parents were agnostic, the perfect beginning for a spiritually-minded child (it is my firm conviction that the Lord loves agnostics, since they neither insult nor pester Him).  This meant I was free to make up my own mind on religious matters, though I am indebted to them for sending me to Sunday School, where my errant child's mind was furnished weekly with the dramatic stories of Abraham, Isaac, Jacob, Moses and Christ.  These deeply spiritual episodes formed part of my very DNA; and my later brief flirtations with Eastern spiritual philosophy did not conflict with my Christian views (even if Zen and Taoism were actual religions – which they aren't! – they can still complement the teachings of the Bible), but rather informed them and placed them in a wider context.  My interest in connections between things, ideas and people has never sat comfortably with a sectarian mindset, and I have always been more concerned with similarities between viewpoints than with differences.  My experiences of God, Jesus Christ and the Bible in early school life went on to underlie art, music, lyrics and beliefs even before I became a practising Christian (which happened later in life).  The Narrow Way is my conscious fusion of various spiritual and artistic life influences, a deliberate attempt to blend several parts into an expressive whole.